French Presidential elections in the two stage First Round, April 10, 2022, and Second Round April 24th appear to be influenced by the European security crisis with Putin's invasion of Ukraine, impact on both domestic issues and concern over lack of active campaigning by incumbent President Macron-seeking a second term. He has earned mixed reactions for his adroit handling of the COVID pandemic. His rotation as the current EU President, direct diplomatic efforts with Russian President Putin in Moscow over the Ukraine invasion crisis ,and 'narrow passage' handling of EU sanctions against Russia is tempered by the difficulty posed by the more than $13 Billion investments by major French businesses there. That was cited by embattled Ukraine President Volodymyr Zelensky in his virtual speech before the French National Assembly and Senate when he cajoled major French automobile, energy, and retail businesses in Russia:
"French companies must leave the Russian market … Renault, Auchan, Leroy Merlin and others … must cease to be sponsors of Russia's military machine, sponsors of the killing of children and women, sponsors of rape, robbery and looting by the Russian army.
"All companies must remember once and for all that values are worth more than profit, especially profit on blood. We must already think about the future. About how we will live after this war."
Notwithstanding these remarks, Zelensky appears to be held in high regard by the French for his resolute Churchillian oratory in defense of his people and requests for military aid. Zelensky was applauded by French political leaders, media and is held in high esteem by the majority of the French public for his resolute defense of his country against the Russian onslaught.
That paralleled similar virtual addresses to the US Congress, UK Parliament and German Bundestag.
Zelensky's virtual speech to the Israeli Knesset caused disquiet there over his reference to the Nazi Holocaust being the equivalent to the "holocaust" confronting Ukraine. This despite both Zelensky and Ukrainian PM Groysman being Jewish. Zelensky's family included relatives killed during the Nazi "holocaust by bullets" that took the lives of upwards of 1.5 million Jews. Zelensky had beseeched Israel for military assistance but applauded Israeli PM Naftali Bennett efforts at mediating the dispute directly with Russian President Putin. Israel's nuanced relations with Russia reflect the deconfliction agreement with Russia giving Israel free of action to undertake pre-emptive air attacks against Iranian targets in Syria, Iraq and more recently, Iran, itself.
Macron's promotion of European security arrangements in collaboration with NATO has gotten attention in French polling. The latest IFOP poll indicated 88% of French sampled are clearly worried about impact on Europe from Putin's war in Ukraine. 40% of those polled indicated that may influence their vote in the upcoming First and Second Round of the Presidential Elections. Our conversation will focus on the way the leading contenders are reacting to the crisis in Ukraine, and how that influences voter intentions.
There is one contender in the looming French Presidential race who may end up facing Macron in the second round. Marine Le Pen of the National Rally who in the recent past had boosted Putin, taken large loans from Russian banks, and even had campaign flyers featuring profiles of her and Russian President Putin. She has segued in her campaign to focusing on domestic issues like the cost of living–occasioned by inflationary pressure from the European security crisis—and modest support for the EU. Currently pre- first round polling show Macron favored at 28 percent, with Le Pen trailing at 20 percent, with others across the political spectrum from far right to greens trailing at half those levels to single digits. Zemmour, who fell by four points and favors visas for Ukrainian refugees, but not asylum for other religions—meaning Muslims. Prior to entering the Presidential campaign, he fashioned himself as a "French Putin."
French Jews have concerns over rising antisemitism, with over 85% in recent polls expressing that view. That was evident in remarks by Valerie Pécresse candidate of the center right Les Republicans party at a memorial on the 10th anniversary in Toulouse of the Al Qaeda inspired massacre by Mohammed Merah who killed a teacher and three young students at Jewish day School. It was also evident in remarks by French President Macron and visiting Israeli President Israel Herzog over the issue of French views on the emerging Iranian nuclear deal with leaked disquieting provisions on release of an estimated $100 billion dollars of impounded oil revenues and delisting of Iran's Revolutionary Guards Corps from terrorist lists. Macron commented that he had "Israel's security Interests" in mind.
Against this background we held our sixth in a series of discussions with American ex-pat in Paris, Nidra Poller in the final prelude to the French Presidential elections, First Round on April 10th, Second Round on April 24th.
Jerome Gordon: We're here today for another stellar discussion with American ex-pat in Paris, Nidra Poller. It comes at a time of the NATO summit over Putin's war against Ukraine. It also comes in the final strokes of the campaign for the French presidential elections, with the first round on April 10th and the second round on the 24th. There are some interesting developments relative to the French position on Ukraine. Embattled Ukraine President, Volodymyr Zelensky, gave a virtual speech to the French National Assembly on March 23rd. What was the reaction to his criticism of billions of euros of French investment in Russia "placing profits over human lives"? Further, what is the French opinion of this Jewish President of the Ukraine?
Nidra Poller: Well, opinion is highly favorable. The majority attitude in France is recognition of what's at stake and great appreciation for President Zelensky's leadership and the courage of the Ukrainian people and army. There is a forgiving attitude to anything that might be a bit controversial. I would say, with the exception of the ultra-nationalists and some of the far left, there is very great respect and consideration. President Zelensky had a standing ovation, as every time he speaks. As for French companies, it's a mixture of understanding that some of them can pull out from one day to the next. But all of them recognize that they can't go on cooperating with Russia. The separation process is underway. As for weaning away from Russian gas and oil, there is a general recognition, with the exceptions that I mentioned, that it has to be done.
Let me put it this way, Jerry: this is a complete break with the entire European security system that has been in place since the fall of the Soviet Union. The very notion of mutual deterrence has suddenly disappeared. A small, very courageous country is being invaded, pummeled with bombs aimed at the civilian population, things that haven't happened in Europe since the Second World War. And, of course, we could all help, whether or not Ukraine is in NATO. Why aren't we doing more? If we could give them that no fly zone, they would win, instead of being tortured day and night, and hanging on by a thread. We can't do that for a simple reason: nuclear blackmail. What puzzles me, especially coming from certain conservative quarters I know very well, that we've worked with in the past, is that they don't seem to understand that.
They don't seem to see the difference between the kind of childish Black Lives Matter consciousness raising that went on after George Floyd was killed, and the sweeping reaction to the total disruption of any system of security in Europe. For some of the reality-deniers, the solution is, "We have to sit around the table." That's very French. We'll sit around the table, and we can have good food, good wine and discuss what should be done. We have to sit around the table and put together a new European security structure. And Russia must be included. Well, I think that's preposterous.
How can Russia be included in the security plan? Russia has to be precisely excluded, and the security has to be built against Russia. This is a total paradigm shift in modern history. In the coming years, people will be judged for their ability to understand it. I'll give you some details soon about the range of positions taken here in France. But I'd like to stress, for our American audience that might or might not be concerned, his is happening around the corner from us here in Europe. We know that one false move and it hits home. The Third World War they talk about will be in Europe. Like the Second one.
Jerry Gordon: Nidra, you were on an online webinar when the subject of Zelensky's speech to the Israeli Knesset came up, which was disquieting to some Knesset members. The guest on the webinar was a famous Soviet-era Jewish Human Rights Icon, Natan Sharansky. What were his views about the Israeli criticism of Zelensky and what was the surprising comment from a relative of yours in California, who we both hold in high esteem, who participated in this very interesting episode?
Nidra Poller: That's the world of Zoom! I'm following the program here in Paris and suddenly there's a question from my cousin in California. She asked Sharansky the question that Israelis have raised—some cautiously and others with severe criticism and, sometimes, angry comments: "He can go to hell. What is he talking about? Doesn't he realize how vulnerable we are, and Ukraine didn't even vote against the Anti-Zionist UN Resolutions." Sharansky stands up for democracy in many difficult situations when others say it's a lost cause. I always trust him on essential questions of conscience.
Sharansky said that Zelensky is admirable in leading his country, the army is admirable, the population is admirable. What is happening to them is unforgivable, and the fact that we can't stop it is unbearable. If the president made a mistake and said something which wasn't exactly true about the way the Ukrainians helped Jews during the Shoah—though there are a lot of righteous gentiles from Ukraine … Sharansky was kind, forgiving, and thoughtful. He doesn't think we absolutely have to call Zelensky on those, however valid, complaints from Israelis. But it's better to watch the podcast and listen to Sharansky's answer in full. It should be available soon on the ISGAP site. .
Jerry Gordon: Thank you for that. French President, Macron, is in a very interesting position. He showed up at the NATO Ukraine summit, supportive of certain actions that NATO wanted to entertain, but he's also on rotation as the EU President. That raises questions of "Does he support tougher sanctions against Russia"? Moreover, "what is France doing in the context of extending humanitarian aid and possible sanctuary for Ukrainian refugees"?
Nidra Poller: We've already received about 20,000 refugees. They are warmly welcomed. I would say that Macron is strong on accepting refugees, strong on giving military and humanitarian aid. Strong on cutting commercial ties with Russia, strong on sanctions. It puts his political competitors in the upcoming elections in a tough position. Sometimes they express it awkwardly, saying it's not fair. What isn't fair? The outgoing president is playing an important role in an existential crisis. How can they compete with that? In fact, the president does have to deal with an existential threat. And he's doing quite well. Voters, with some obvious exceptions, will ask themselves if the other candidates could do as well. Zelensky has been praising Macron for his role. Some were saying that Macron stepped up but didn't get good results. They've gone quiet now.
When the country faces an existential threat, you need national union. It's not debatable. You have to stand behind your President. On this question, I'm talking again about some of our American conservative friends. Today, they think it's more important to trash Biden than to encourage him to do the most he can do to save Ukraine. They will even lie to make their point. They claim that when Trump was president, there were no problems in Ukraine, Russia never attacked, everything was fine. Now, by the fault of the voters, or the fault of election fraud, he's no longer president. I asked a friend who is a fervent Trump supporter why, if Trump is so strong, he doesn't he call up Putin and tell him to stop? The answer was, he can't do it, he's not in a position of power anymore.
Well, if he's so strong and he doesn't do it, history will judge that.
Continue reading here:
https://www.newenglishreview.org/articles/a-second-term-for-emmanuel-macron-while-russia-bombs-and-batters-ukraine/
---
Jerry Gordon est rédacteur en chef de The New English Review, auteur de The West Speaks, NERPress, 2012 et co-auteur de Genocide in Sudan: Caliphate Threat to Africa and the World, JAD Press, 2017. De 2016 à 2020, il a été producteur et co-animateur de Israel News Talk Radio-Beyond the Matrix.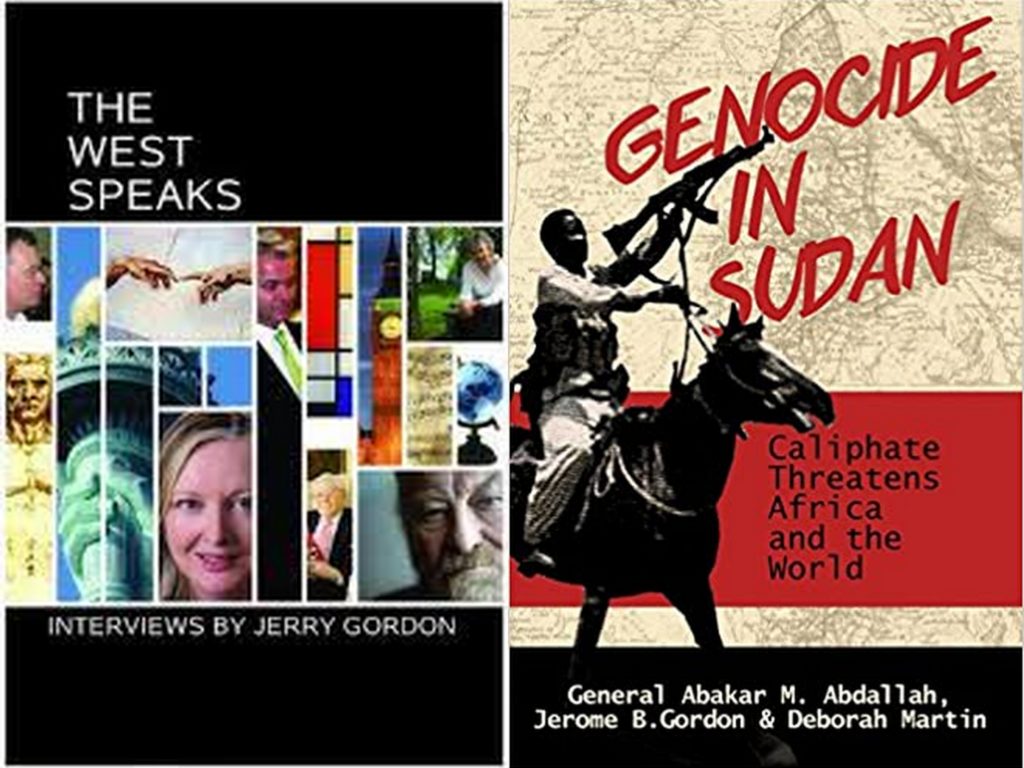 Suivez NER sur Twitter @NERIconoclast